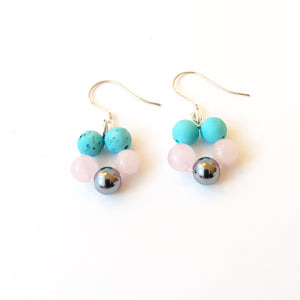 Our beautiful crystal jewellery aims to inspire you to be truthful and connected to yourself. Using the highest quality crystals, it is made with a deep intention, entirely by hand. All pieces are infused with love, healing prayer and universal life energy 'reiki'. Wearing our bracelets and earrings feels like a hug from a friend!
1. Rose Quartz has been used in love ceremonies for many centuries, Rose Quartz is a stone of love. Rose Quartz is known for attracting love, self-love, confidence, empathy. Physical health: skin regeneration, physical heart imbalance, lungs, kidneys, adrenal glands, fertility. 
2. Howlite is known for its calming qualities. Howlite reduces anxiety, stress and tension in your body, calms an overactive mind and helps sleeping. Howlite is known to calm the whole body, ease muscle tensions caused by stress and clear your mind of chatter. Howlite will also help to remind you to drink water for optimal health. Physical health: healing any physical ailments, breasts, babies.
3. Hematite is a powerful grounding and balancing stone. Once Hematite touches your skin, you feel calmer and more centred. Hematite stands for courage, strength, vitality, enhances concentration and focus. Physical health: beneficial for headaches, blood, anaemia, relief from cramps, fractured bones. 
Product Details
Stone       6 mm Black Onyx highest quality beads
Length      Approx. 3.5 cm
Metal    Sterling silver 925 earring hook, silver plated accessories
All earrings come gift wrapped in a beautiful jewellery bag for you to enjoy or gift.

Healing crystal vibes from My Magic Nature, xo!