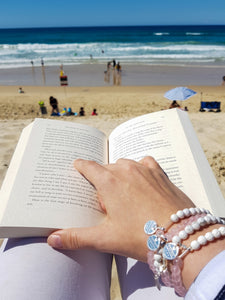 Always wondering when your period comes and goes? Is it this week? When was the last time? My Magic Nature has got you covered!

The Cycle Healing Bracelet is specially designed to track our 'time of the month'. Move your charm every day to indicate the current day of your natural cycle. Soothing stone of Rose Quartz make the first 1 - 7 days. Howlite with beautiful calming qualities follows from day 8 - 28. Wear this braclet, keep one your bedside table or in your handbag. Be prepared. Take a moment and deep breath - to think about your body and its magical natural rhythm.

Yes! We can absolutely customise. Please comment of you require adjustment to the number of days / beads.

Our beautiful crystal jewellery aims to inspire you to be truthful and connected to yourself. Using the highest quality crystals, it is made with a deep intention, entirely by hand. All pieces are infused with love, healing prayer and universal life energy 'reiki'. Wearing our bracelets and earrings feels like a hug from a friend!

1. Rose Quartz is a stone of love. Rose Quartz is known for attracting love, self-love, confidence, empathy.

2. Howlite is known for its calming qualities. Howlite is a gorgeous stone to reduce anxiety, stress and tension in your body, calms an overactive mind, helps sleeping.

Product Details
Stone  6mm Rose Quartz, Howlite
Metal   Sterling silver 925 charm and connector © 
Item#   BCRQH19001
Size     18 cm /  7.1 inch (most popular size; stretchy; please leave a comment in your shopping cart if you require any adjustments)

All bracelets are gift wrapped in a beautiful jewellery bag for you to enjoy or gift.

Healing crystal vibes from My Magic Nature, xo!